LICENSED, INSURED & BONDED SINCE 1985 WITH 35 YEARS OF EXPERIENCE • (818) 773-9514
Heat Pump Services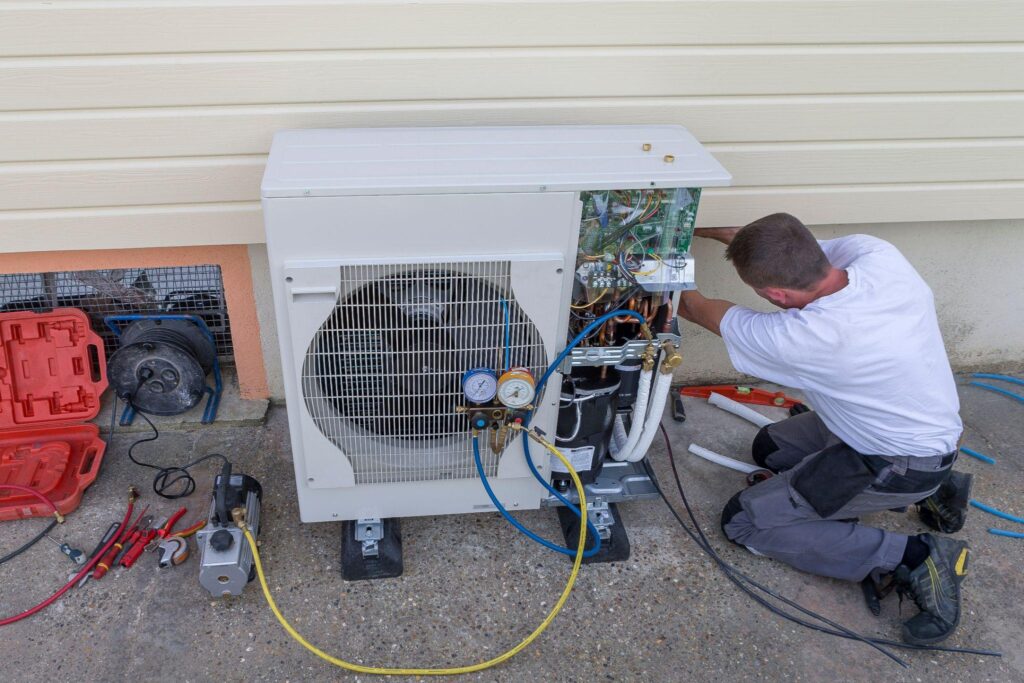 If you need help with your heat pump or want to have one installed, contact Lynch Plumbing at 818-773-9514 today.
Heat pumps can provide heat or cool off your home, drawing in heat from outside or removing it from indoor air as needed.
Should you invest in a heat pump? Your HVAC services provider can help you decide.
How Does a Heat Pump Work?
A traditional HVAC system works by generating warm or cool air. This is not the most efficient way to provide indoor comfort. A heat pump works by pulling heat from outdoor air, even if it is chilly, and transfers this heat indoors. When it is warmer outside, the unit pulls heat from inside and transfers it to outdoor air. This is accomplished using refrigerant without burning any fossil fuels.
Heat pumps are efficient and environmentally friendly because they simply redistribute heat from the air or ground. There are ground-source heat pumps that move heat between the interior of your home and the earth. Air-source heat pumps transfer heat between indoor and outdoor air, which is more affordable as they don't require a network of underground tubes—these are more popular for residential use.
Components of a Heat Pump System
A heat pump system contains an outdoor unit similar to the condenser unit in an AC system. It also acts as an evaporator when the system is in heating mode. The indoor unit contains a coil and a fan for moving air. Refrigerant circulates while absorbing and releasing heat, and is pressurized by a compressor. The pump uses a reversing valve to change the direction of refrigerant and switch between heating and cooling modes.
Should I Install a Heat Pump?
Where you live determines how much you'll benefit from a heat pump. This type of system is most effective in areas where the outdoor temperature rarely drops below freezing. But just because your area gets cold in the winter doesn't mean you can't benefit. A heat pump can be combined with a furnace so when it gets too cold outside the furnace can turn on to produce heat.
Contact Lynch Plumbing to Install Your Heat Pump
We provide HVAC and plumbing services in Los Angeles and the San Fernando Valley. Licensed, bonded, and insured, our team of expert technicians can evaluate your home to see if a heat pump is right for you. We are skilled in every aspect of installing and servicing heat pumps. Whether you're interested in switching to one, or require an emergency plumber, contact Lynch Plumbing at 818-773-9514 today.
Expert Plumbers at Affordable Rates
Quality doesn't cost, it Pays
Available 24/7

LEAK DETECTION

DRAIN SERVICES

SEWER REPAIR

TANKLESS WATER HEATERS

And Much More >>>