Serving Los Angeles & San Fernando Valley
Northridge Plumbing Company
Local Plumbers in Northridge, CA
Top rated for affordable plumbing services for residential, commercial, and industrial clients across the Northridge area.
EMERGENCY PLUMBING Have a burst pipe, smell natural gas, or have any other plumbing emergency? Our Northridge plumbers are available to provide 24/7 emergency plumbing services.
DRAIN CLEANING We're widely known for our drain services, including fixing clogged drains using advanced techniques like motorized drain snaking and hydro jetting.
LEAK DETECTION Plumbing leaks can have subtle signs. Contact us for leak detection and repair if you notice sagging/warped floors, discolored ceilings, mold, running water sounds, or spikes in the water bill.
SEWER REPAIR Blockages, corrosion, tree roots, and nearby construction can affect your Northridge sewer line. Now, there's a way for complete sewer repair, and excavation is eliminated using pipe lining or pipe bursting.
GAS LINE REPAIR Our Northridge plumbers specialize in pipe installation and repiping to address issues such as discolored water, stained sinks/tubs, or decreases in water pressure.
WATER HEATER Northridge water heater repair and installation is one of our specialties. We can also install, repair, and maintain more efficient tankless water heaters in Northridge.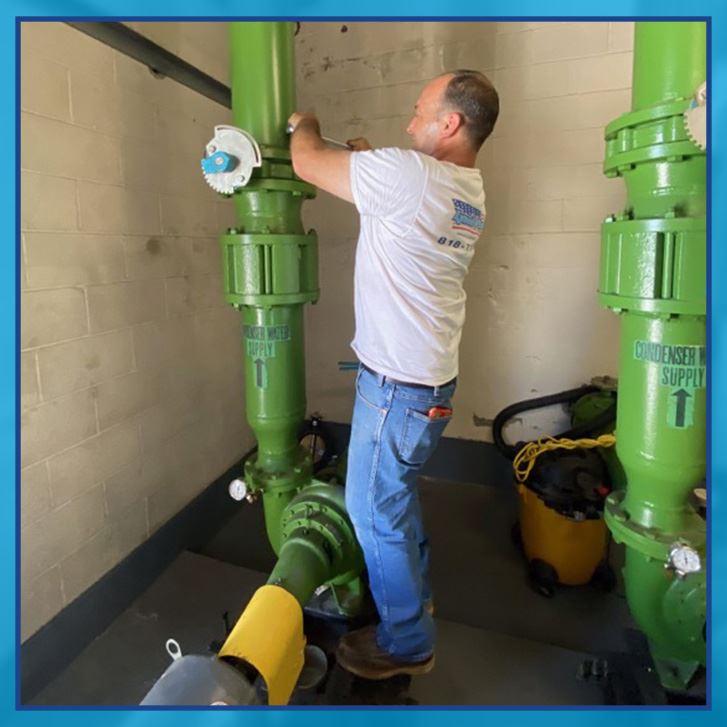 Why Choose
Lynch Plumbing?

  Family-Owned & Operated

  Call Us 24/7

  37+ Years in Business

  Licensed, Insured & Bonded
Top rated for plumbing services in the area, Lynch Plumbing is depended upon for leak repair and a full range of residential and commercial plumbing services. Whether you have a slow drain in your home or your commercial grease trap needs to be cleaned, our Northridge technicians can get the job done. They're trained and equipped to handle any problem, no matter its scope.
We are your premier Northridge drain cleaning company. The latest techniques are used to effectively clear out your drains and pipes to make future clogs less likely. Our Northridge plumbers are also capable of all types of leak repair. Whether you need sink repair or faucet repair, they can find the root cause of the problem and fix it quickly. Have a running toilet? Our team can provide fast toilet repair as well.
If you're facing issues such as drain backflow or a malfunctioning sump pump, Lynch Plumbing is here to address your immediate concerns. We can provide shower repair or garbage disposal repair. And if a mishap has left your home flooded or soggy, we can help with water damage cleanup too. Dishwasher installation, or help with any type of plumbing appliance, is also something we can take on.
We're trusted across the San Fernando Valley for routine service and repairs as well as emergency services. Call any time during a plumbing emergency and our Northridge plumbers can get to you quickly. Sometimes a simple drain cleaning will do. Any kind of leak can do major damage, and we'll do what it takes to resolve the problem. Call 818-338-6295 or contact us online for immediate plumbing service in Northridge.
Licensed plumbing technicians address any issue in your home or commercial business. Find local plumbers near you to restore safety and peace of mind.
Five-Star
Customer Reviews