Serving Los Angeles & San Fernando Valley
Calabasas Emergency Plumber
Plumbing Services in Calabasas, CA
Our Calabasas plumbers handle all types of plumbing jobs, from drain cleaning to pipe and fixture repair and replacement, to toilet repair and servicing water heaters, gas lines, and more.
24/7 EMERGENCY PLUMBING A plumbing issue can creep up any time. Our trained technicians can take care of your plumbing emergency. Whether it's a dripping faucet, running toilet, or burst pipe, we'll dispatch a crew quickly to minimize the damage.
DRAIN SERVICES Residue, mineral scale, and debris can clog up drains, causing them to run slow or back up. Our plumbers employ the latest equipment to provide drain snaking or hydro jetting to effectively clear pipes.
LEAK DETECTION AND REPAIR A hidden leak may cause low water pressure, running water sounds, and damp spots on walls and ceilings. We use infrared cameras, acoustic detection equipment, and gas tracers to identify the deepest leaks.
SEWER LINE SERVICE A sewage backup can result in a substantial water damage cleanup and extensive digging. If the line can be repaired, we can do non-invasive pipe lining; or, we can thread a new pipe through an existing line via pipe bursting.
GAS LINE REPAIR Our experienced plumbers are ready 24/7 to repair a leaking gas line. Additionally, we can install gas pipes for stoves, dryers, outdoor grills and fireplaces, as well as whole-house gas lines.
PIPING AND RE-PIPING Pipes often deteriorate slowly over time, until they break. Our plumbers quickly address frozen pipes or changes in water pressure and quality, as well as the cause of stained sinks and tubs.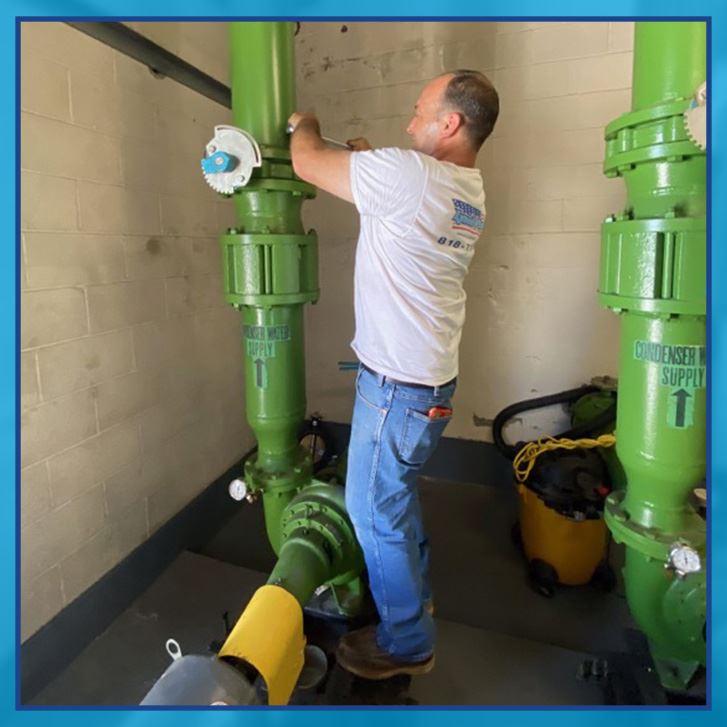 Why Choose
Lynch Plumbing?

  Family-Owned & Operated

  Call Us 24/7

  37+ Years in Business

  Licensed, Insured & Bonded
Our local plumbers in Calabasas, CA can install, repair, and maintain your pipes, fixtures, and even tankless water heaters. Licensed, bonded, and insured, our technicians have the knowledge and experience to get the job done right and comply with the latest building codes. We're committed to completing every job and ensuring all plumbing fixtures and components are working and installed correctly.
Whether you have a home, commercial business, or industrial facility, you can rely on our Calabasas drain cleaning professionals to resolve clogs and protect your plumbing. Our business has been operating since 1985, so we know the ins and outs of every plumbing system. We're also committed to providing service at affordable rates, while our one-year warranty covers labor and materials.
Not every plumbing issue is immediately obvious. But if there's a problem, we'll find it, and you can trust us to fix it right the first time. Lynch Plumbing is here to ensure your home or business is functional and safe.
Contact us online or call (818) 483-0139 to schedule a free consultation and estimate or request emergency services.
Five-Star
Customer Reviews