Serving Los Angeles & San Fernando Valley
Plumbing Services in Calabasas, CA
At Lynch Plumbing, our Canoga Park plumbers are licensed and top-rated for residential and commercial plumbing services in the local area.
Local Plumbers in Canoga Park, CA
24/7 EMERGENCY PLUMBING Our plumbers are the best in the business whether backflow threatens your home or you have clogged drains, a running toilet, no water, or a burst pipe. When the situation is urgent, call Lynch Plumbing in Canoga Park.
DRAIN CLEANING Customers count on our Canoga Park drain cleaning technicians when mineral scale, residue, or foreign objects block their drains, causing slow drainage or water to back up in sinks, tubs, or showers..
LEAK DETECTION AND REPAIR We employ the latest technologies to quickly find leaks in Canoga Park homes and commercial businesses. A leak is a plumbing emergency; without professional leak repair, you face more expensive water damage cleanup and restoration.
SEWER REPAIR Sewer line excavation can be a time-consuming and expensive process. Fortunately, we can make the process faster and more affordable with less invasive methods to address corroded pipes, tree roots, and blockages.
REPIPING Our pipe installation and repiping professionals can restore or renovate plumbing in Canoga Park homes and businesses. Pipes deteriorate over time and can develop a range of problems if not maintained and replaced.
WATER HEATER You probably don't give your water heater much thought, but it can affect water quality and safety if something goes wrong. Trust us for Canoga Park water heater repair and installation; if your old unit is inefficient, let us see if you'll benefit from a tankless water heater.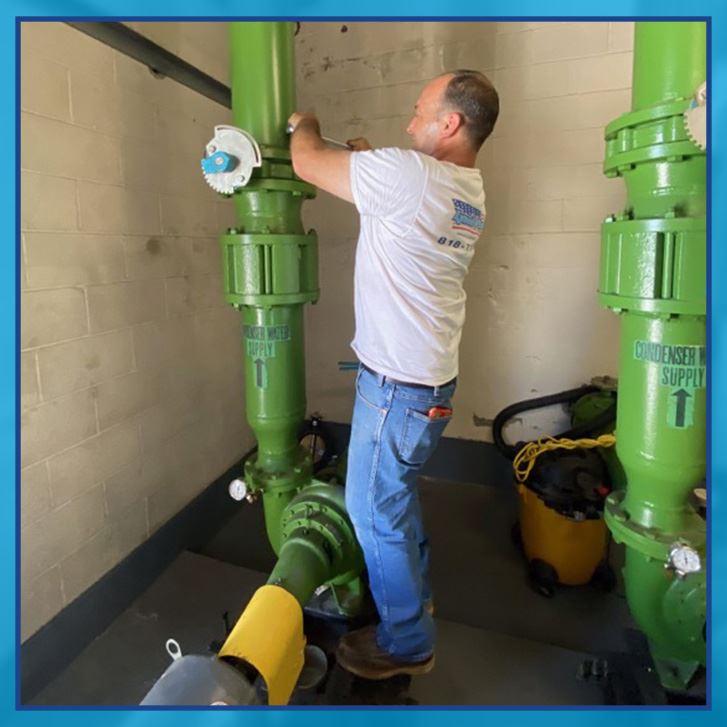 Why Choose
Lynch Plumbing?

  Family-Owned & Operated

  Call Us 24/7

  37+ Years in Business

  Licensed, Insured & Bonded
Lynch Plumbing offers a wide range of plumbing services in Canoga Park. Our licensed technicians are experienced with drain cleaning and other drain services to address your most basic plumbing needs. Emergency services mean we're ready—24/7—to troubleshoot and fix plumbing failures in one visit.
Our Canoga Park plumbers can also resolve any toilet repair, sink repair, shower repair, or garbage disposal repair issue you have. Whether it's a plumbing emergency or you need a professional to install a sump pump to prevent future flooding, you can trust Lynch Plumbing. Dishwasher installation is something we can help with too, as it requires a professional touch to set up and connect your appliance.
If you live in Canoga Park, we're here to address your basic plumbing needs or a plumbing emergency. Our Canoga Park plumbers have the latest training and certifications to provide the best quality of service at the most affordable rates. To learn more or schedule an appointment, call (818) 483-0139 today!
Five-Star
Customer Reviews