Serving Los Angeles & San Fernando Valley
Pasadena Emergency Plumber
Local Plumbers in Pasadena, CA
Lynch Plumbing provides residential, commercial, and industrial plumbing services across Pasadena, CA. You can count on us in a plumbing emergency or whether you're building, expanding, or remodeling your home or business.
24/7 EMERGENCY PLUMBING Our Pasadena plumbers are equipped to deal with a burst pipe, failed sump pump, broken water heater, or drain/sewer backup in a timely manner. The goal is to get your plumbing working and avoid water damage cleanup or expensive property damage.
TOILET REPAIR A running toilet can waste water and be a sign of a significant leak. If your toilet makes constant noise, is visibly leaking, or has a crack, our plumbers near you can fix or replace it to quickly get your bathroom in working order again.
PLUMBING FIXTURE REPAIR Our licensed plumbers specialize in sink repair, especially if you notice a drop in water pressure or increased noise. Faucet repair may be needed if water pools up around them. And whether you have a bad seal or a faulty P-trap, or need shower repair, our technicians can resolve the problem fast.
DRAIN SERVICES Slow drains can't always be fixed with home remedies, and commercial products can cause more harm than good. Fortunately, Lynch Plumbing specializes in advanced drain cleaning methods like mechanical drain augers and water jetting to get your drains flowing again.
LEAK DETECTION AND REPAIR It's frustrating when the water pressure drops, the walls and ceilings look wet, or you hear running water but don't know where the problem is. We use hi-tech equipment to find the source of potential leaks, minimizing the amount of demolition work and allowing us to correct the issue fast.
SEWER INSPECTION AND REPAIR For plumbing issues that stem from your sewer system, we can use video camera inspection to find them. Our plumbers are pros at sewer line and excavation work. We're trained in traditional and newer methods of repair that don't require digging.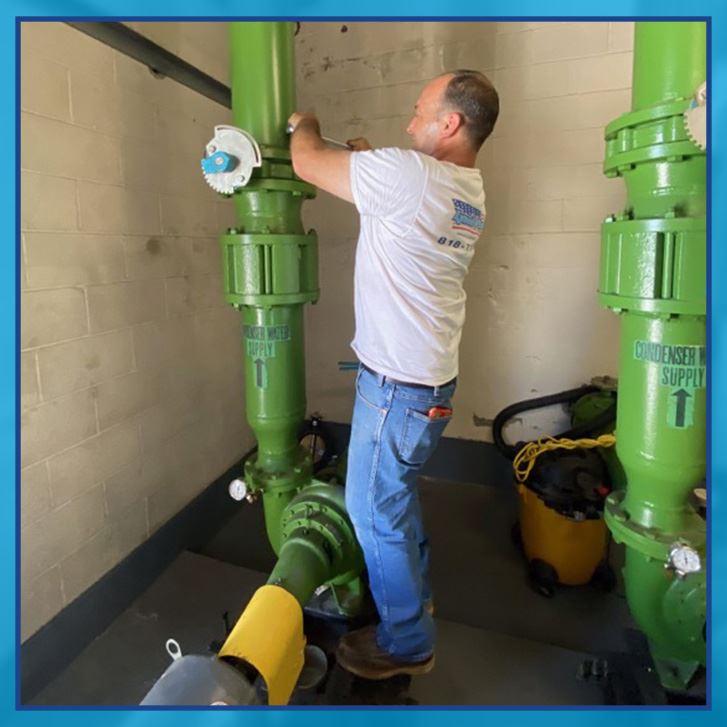 Why Choose
Lynch Plumbing?

Family-Owned & Operated

  Call Us 24/7

  37+ Years in Business

  Licensed, Insured & Bonded
Full-Service Pasadena Plumbing Company
Lynch Plumbing is a leading provider of residential, commercial, and industrial plumbing services in Pasadena, CA. Not only do we address any plumbing issue around the home, but we can also deal with any matter, big or small, in your commercial business. That includes fixing clogged drains in your restaurant or retail store. Our team can install grease traps to protect your plumbing or perform water jetting as routine maintenance to keep your pipes free of buildup. Today, we offer the same high-quality service in Los Angeles and the San Fernando Valley that we have since 1985. Our technicians are fully licensed, bonded, and insured.
We're able to repair, install, and replace all types and sizes of fixtures, pipes, and equipment such as sump pumps and water heaters, and we work with industrial clients as well. Industrial facilities require different types of equipment than other customers. But if you need pipe replacement, a new water or sewer line, gas line, or sand trap, Lynch Plumbing can get the job done thanks to our engineering expertise and dedication to quality service.
"We have been using Lynch plumbing for some time now, and they have always sent experienced and knowledgeable plumbers."
"Amanda and Tommy have great service, great quality, and attention to detail with a real sense of professional pride in their business."
"From Amanda in the office to Tommy and his crew, this is the lifetime plumber you are looking to work with."
"The plumber arrived on time, was extremely professional, and did an outstanding job. They are my new regular plumbing company now!"
"Simply put, Lynch Plumbing provides superior service to their customers. They are quick, efficient, honest, and trustworthy."
"The technicians were knowledgeable, compassionate and so helpful. If I could rate them 10 stars, I would!"