Serving Los Angeles & San Fernando Valley
Emergency Plumber in Reseda
24/7 Emergency Plumbing Services in Reseda, CA
When you have a leaky pipe or faucet, require new pipe installation, or need drain cleaning service, our local plumbers in Reseda are here to help. Just contact Lynch Plumbing if you have a plumbing emergency—we take calls 24/7!
Lynch Plumbing serves residential and commercial customers throughout Los Angeles and the San Fernando Valley. We've been helping with plumbing installation, repair, and maintenance since 1985. Our San Fernando Valley plumbers serving Reseda can handle any situation. They are trained to manage everything from clearing clogged drains, to pipe installation and repiping, to sewer line and excavation services. No matter what your needs are, we have plumbers near you in Reseda who can help.
We offer quality plumbing services for homeowners in Reseda, so you don't have to deal with a leaky pipe, dripping faucet, or malfunctioning water heater for long. Lynch Plumbing is available day or night to answer your call and promptly address your plumbing emergency.
We can quickly troubleshoot an issue with your toilet, shower, sink, dishwasher, garbage disposal, sump pump, septic system, or water heater. Don't wait to call. A dripping faucet alone can waste a lot of water, which only scratches the surface in terms of the potential cost of plumbing and property repairs. And if you are remodeling, we can ensure all new plumbing is installed correctly.
You probably don't give your water heater much thought, but it can affect water quality and safety if something goes wrong. Trust us for Canoga Park water heater repair and installation; if your old unit is inefficient, let us see if you'll benefit from a tankless water heater.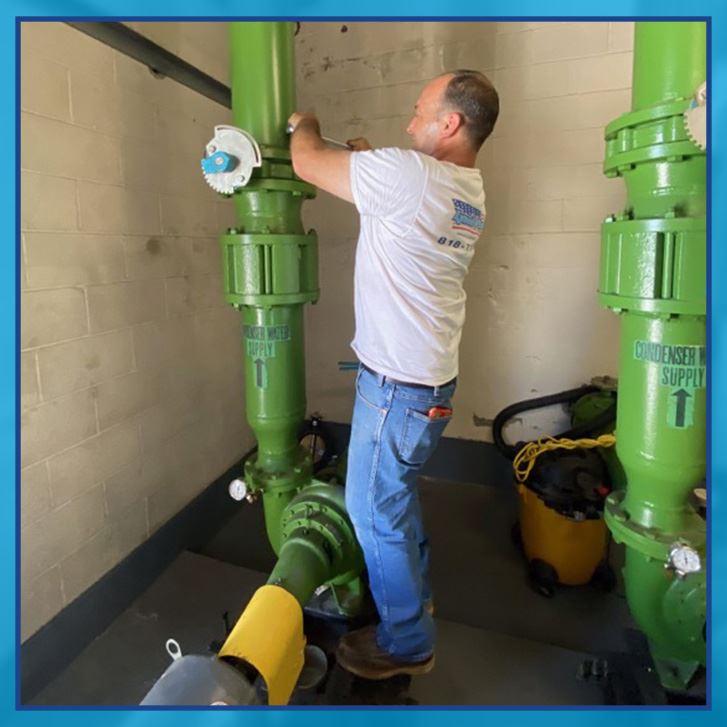 Why Choose
Lynch Plumbing?

Family-Owned & Operated

  Call Us 24/7

  37+ Years in Business

  Licensed, Insured & Bonded
Commercial & Industrial Plumbing
At Lynch Plumbing, we know the impact a minor plumbing problem can have on your commercial business. Don't lose a single customer at your store or restaurant. Our plumbing contractors can quickly clear out your drains or spot hard-to-find issues using electronic pipe and sewer locators, camera inspections, and slab leak location systems.
Once you call, we can often get plumbers to your location within the hour. We offer the highest quality commercial plumbing services in the Reseda area. Whether your facility is under construction or you have an emergency, our team is trained and equipped to install and repair water supply lines, gas lines, grease traps, sand traps, sump pumps, and water heaters.
The plumbing requirements of an industrial facility differ from our other customers. Fortunately, Lynch Plumbing has the technology, tools, and equipment to address any industrial plumbing repair. From leak repair to water damage cleanup, our team can help minimize the disruption to your operations and ensure your business can continue running.
Our technicians are fully trained to manage an emergency industrial plumbing repair and help in facility construction. We're a family-owned company committed to addressing any need. Also licensed, bonded, and insured, our team is ready to provide our full range of services to any facility in the Reseda area.
Local Plumbers in Reseda, CA
At Lynch Plumbing, we employ experienced and reliable plumbers. They are fully committed to ensuring the safety and function of your property.
"We have been using Lynch plumbing for some time now, and they have always sent experienced and knowledgeable plumbers."
"Amanda and Tommy have great service, great quality, and attention to detail with a real sense of professional pride in their business."
"From Amanda in the office to Tommy and his crew, this is the lifetime plumber you are looking to work with."
"The plumber arrived on time, was extremely professional, and did an outstanding job. They are my new regular plumbing company now!"
"Simply put, Lynch Plumbing provides superior service to their customers. They are quick, efficient, honest, and trustworthy."
"The technicians were knowledgeable, compassionate and so helpful. If I could rate them 10 stars, I would!"