Commercial Plumbing Services
Whether you run a small restaurant or large retail chain, you can't afford to go without working plumbing. We understand how commercial plumbing contributes to the user-friendliness and overall functionality of your establishment. This is why we want to help when you need world-class commercial plumbers to carry out a vision in your construction, or be the first on the scene in case of a plumbing emergency​.
Commercial Plumbing Services in the San Fernando Valley
At this point in our careers, plumbing is second nature to us. If you've just purchased a new facility and you're in the design phase of your commercial property, we're the ideal team for a top-to-bottom plumbing contracting job. Additionally, we're renowned for our quick, effective emergency solutions.
Our plumbers have years of experience handling commercial plumbing needs, including drain cleaning and installing/repairing water heaters, water and sewer lines, gas lines, grease traps, sand traps, sump pumps, and toilets. We're also trusted for pipe replacement and servicing fixtures of all types and sizes.
Whether your business is in Northridge, Encino, North Hollywood, San Fernando, Chatsworth, or Van Nuys, our plumbers can keep your facility operating by providing:
Repairs and Replacements
From a simple (or not-so-simple) drain clog, to running new sewer lines, to installing a new water heating system, we can handle any commercial plumbing repair you need. Our team will give you sound advice about whether to repair the system or to consider replacing it. A newer, improved plumbing fixture or system can run more efficiently and cause less hassle in terms of repair and disruptions to your business.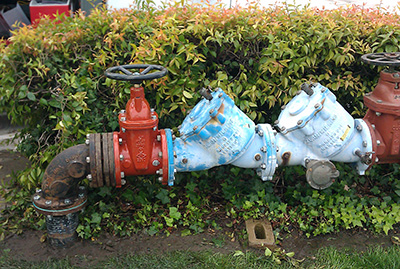 Installations and Remodels
We can provide the expertise to ensure that everything is properly installed and/or remodeled to meet your business needs. Our trained plumbers will fully evaluate your facility to determine the best types of pipe or fixtures. Commercial plumbing endures much heavier use than most residential systems. We will ensure all components and fixtures are properly installed and are ready for use.
Remodeling your business requires planning. Lynch Plumbing will handle all the commercial plumbing work from assessing your needs, to permitting, to installing every element successfully. We pride ourselves in contributing to successful remodels so that local businesses can thrive while knowing they can trust our team no matter what plumbing issues they face.
24-Hour Availability
We offer emergency service 24/7. Call our service number at 818-483-0139 and we will get a licensed plumber out as soon as possible, often within the hour. Whether you need a toilet unclogged, burst pipe fixed, or sewer cleaning, our goal is to resolve the problem quickly and keep your organization operational.
Whatever our San Fernando Valley customers' needs are, our team can handle:

LEAK DETECTION

DRAIN SERVICES

SEWER REPAIR

TANKLESS WATER HEATERS

And Much More >>>

Troubleshooting
Camera Inspections
Electronic Pipe & Sewer Locator
Tankless Water Heaters
Slab Leak Location & Repair
Trenchless Sewer Replacement
Earthquake Valves
Water Heater Repair and/or Replacement
Sewer & Drain Cleaning
Copper Repipe with Lifetime Warranty
Garbage Disposal
Toilets
Faucets
Showers
Tubs
Sinks
Dishwashers
Washing Machines
Wall & Floor heaters
Sump Pumps
Septic Systems
Gas line installation & repair
Contact Lynch Plumbing Today
A leading commercial plumbing contractor in the area, we can install, repair, and replace any fixture or component of your plumbing system. We're available 24/7 to deal with emergencies to minimize any potential disruption to your operations. Our plumbers are licensed, bonded, and insured as well as equipped to manage any plumbing job. To schedule service, call 818-773-9514 today.