Serving Los Angeles & San Fernando Valley
Sherman Oaks Plumbing Company
Do you need drain cleaning, toilet repair, or other residential or commercial plumbing services? Our Sherman Oaks plumbers have you covered.
Local Plumbers in Sherman Oaks, CA
At Lynch Plumbing, our local plumbers are licensed, trained, and reliable, ready to ensure your home, commercial business, or industrial facility is totally functional and completely safe.
EMERGENCY PLUMBING We are the best 24/7 emergency plumbing company in Sherman Oaks. Our emergency services range from leak repair to water damage cleanup.
DRAIN CLEANING We're proud to offer top-quality, affordable drain services whether you have clogged drains, are experiencing backflow, or need faucet or sink repair. Our Sherman Oaks drain cleaning professionals can do it all.
LEAK DETECTION Your plumbing emergency can be addressed quickly with leak detection and repair tools and methods that let us spot hidden pipe, fixture, fitting, or slab leaks.
SEWER REPAIR Sewer line damage can wreak havoc on your home plumbing and the environment. Fortunately, we specialize in sewer line and excavation work as well as less invasive repair methods.
REPIPING Pipe installation and repiping enables us to improve water quality, safety, and water service reliability for our Sherman Oaks customers.
WATER HEATER REPAIR & INSTALLATION A broken water heater is a plumbing emergency we must deal with right away. You can trust us for Sherman Oaks water heater repair and installation by qualified plumbers.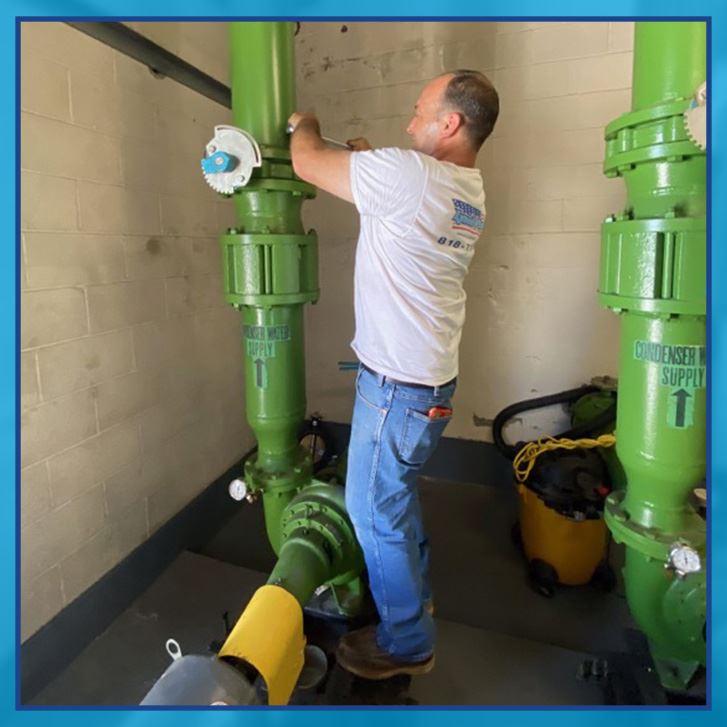 Why Choose
Lynch Plumbing?

  Family-Owned & Operated

  Call Us 24/7

  37+ Years in Business

  Licensed, Insured & Bonded
Top-Rated Sherman Oaks Plumbers
Lynch Plumbing is a family-owned, licensed, insured, and bonded company serving Sherman Oaks, CA. Since 1985, we've been providing drain cleaning, sump pump installation, pipe repair, and many other services when our customers need them the most. Our Sherman Oaks plumbers are trained, equipped, and committed to ensuring your home's or business's plumbing system is trouble-free.
Whether you need faucet repair or dishwasher installation, our team is ready to address your needs. Shower repair shouldn't wait. That's why we're on-call 24/7 to make sure you're not inconvenienced by a minor problem. No job is too tough for our Sherman Oaks plumbers. We can take on toilet replacement, sewer line inspection, or garbage disposal repair with ease and integrity.
We're also relied upon for commercial plumbing services in Sherman Oaks. Our team can address any plumbing problem in an office building, restaurant, or shopping mall. Important tasks such as grease trap cleaning are always best left to the professionals. Commercial drain cleaning may be required more frequently than in homes, but that's what we're here for.
Call Today for Licensed Plumbing Services in Sherman Oaks!
Our dedicated Sherman Oaks plumbers are one reason we're a top-rated plumbing services company in the area. If your home or business is in Sherman Oaks, Lynch Plumbing is the provider to call when you have any type of plumbing emergency. We are local and affordable. For more information or to schedule service, call (818) 483-0139.
Five-Star
Customer Reviews