Serving Los Angeles & San Fernando Valley
San Fernando Valley Emergency Plumber
Emergency Plumbing Services in the San Fernando Valley
Lynch Plumbing provides leak detection and repair, toilet repair, drain services, and other residential and commercial plumbing services by experienced local plumbers in San Fernando Valley, CA. Call whenever you have a plumbing emergency or other need.
24/7 EMERGENCY PLUMBING Our San Fernando Valley plumbers are dispatched immediately whether you experience sewer backflow or a burst pipe and time is of the essence to avoid massive water damage cleanup.
DRAIN SERVICES Kitchen and bathroom drains can clog up suddenly or slow over time. No matter why you have clogged drains (hair, soap, grease, foreign objects, etc.), we can professionally clean them and resolve the problem.
WATER HEATER SERVICES Lynch Plumbing provides San Fernando Valley water heater repair and installation to ensure you always have clean, hot water for your daily needs.
LEAK DETECTION AND REPAIR State-of-the-art equipment lets us locate hidden leaks fast and provide prompt leak repair. Oftentimes, we don't need to break up walls or floors.
FIXTURE REPAIR We do toilet repair, sink repair, faucet repair, shower repair, and can fix any problem with any type of plumbing fixture that you have installed.
PIPE INSTALLATION AND REPIPING Cracked, broken, or corroded pipes can wreak havoc on your home. Our plumbers are experts at new pipe installation and can repipe your entire home if necessary.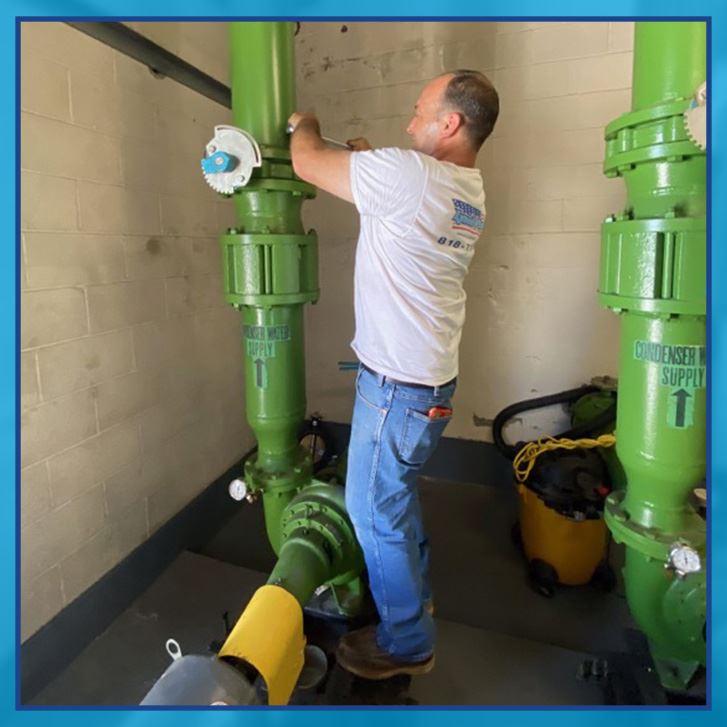 Why Choose
Lynch Plumbing?

Family-Owned & Operated

  Call Us 24/7

  37+ Years in Business

  Licensed, Insured & Bonded
San Fernando Valley Plumbers
Serving the entire San Fernando Valley, Lynch Plumbing is trusted for a full range of residential and commercial plumbing services. We are open 24/7 so we can address any plumbing emergency. Is your toilet not flushing? Has the water stopped flowing? Do you hear running water sounds, but no faucet or fixture is on? Thanks to our emergency services, you need not wait long to have an experienced plumber fix the problem.
We are here whether you need a sump pump installed or fixed, help with dishwasher installation, or need garbage disposal repair. Our technicians are fully trained and licensed. We're committed to getting the job done right the first time and respecting your time and property.
Drain cleaning is essential for any home or commercial business. Many seemingly innocuous materials are flushed down drains, but they can stick to the walls, slow down drains, and clog them completely. Drain snaking and hydro jetting are effective techniques our San Fernando Valley and Encino drain cleaning experts use, while camera inspection helps find the exact source of a problem.
When piping work is required, our plumbers use the latest materials, tools, and methods to complete the job fast and effectively. We even do sewer line and excavation work. Trenchless repair and replacement methods allow us to often avoid expensive digging and cleanup. To learn more about what we do or to request service, contact our San Fernando Valley plumbing company at (818) 483-0139 today.
"We have been using Lynch plumbing for some time now, and they have always sent experienced and knowledgeable plumbers."
"Amanda and Tommy have great service, great quality, and attention to detail with a real sense of professional pride in their business."
"From Amanda in the office to Tommy and his crew, this is the lifetime plumber you are looking to work with."
"The plumber arrived on time, was extremely professional, and did an outstanding job. They are my new regular plumbing company now!"
"Simply put, Lynch Plumbing provides superior service to their customers. They are quick, efficient, honest, and trustworthy."
"The technicians were knowledgeable, compassionate and so helpful. If I could rate them 10 stars, I would!"