Serving Los Angeles & San Fernando Valley
Woodland Hills Plumbing Company
Top-rated, affordable plumbing services in Woodland Hills for residential and commercial repair and installation. Our local plumbers in Woodland Hills, CA, are licensed to handle any plumbing issue you may have. Whether you have a home or commercial business, Lynch Plumbing is here to help.
EMERGENCY PLUMBING 24/7 emergency plumbing service is available throughout Woodland Hills and the San Fernando Valley, so your plumbing emergency can be promptly resolved.
DRAIN CLEANING We provide drain services to fix clogged drains in kitchens, bathrooms, and commercial/industrial facilities using natural drain cleaners, motorized drain snakes, and hydro jetting when necessary.
LEAK DETECTION Plumbing leaks are often too subtle to notice right away; we offer expert leak detection and repair services in Woodland Hills to act on common signs of leaking pipes, and avoid serious damage.
SEWER REPAIR A broken sewer line and excavation once went hand in hand. But oftentimes, we can use newer pipe lining and pipe bursting methods to address the cause of clogged drains and water backups without digging.
REPIPING Worn pipes can contaminate water with rust and particles, stain sinks and tubs, and reduce water pressure. Our pipe installation and repiping professionals are trained and licensed to fix the problem.
WATER HEATER INSTALLATION AND MAINTENANCE Our Woodland Hills water heater repair and installation team can install tankless models to conserve space, save money, and benefit from safer operation, lower maintenance, and greater efficiency.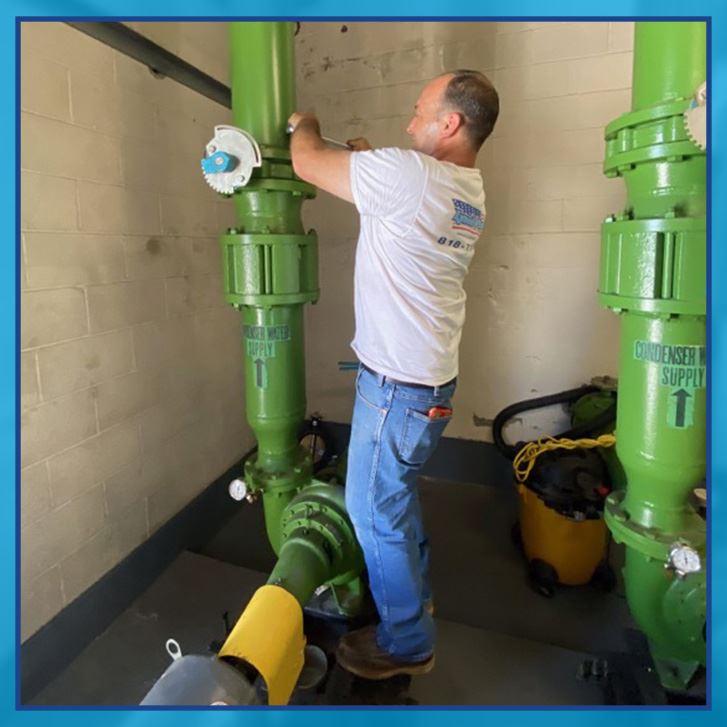 Why Choose
Lynch Plumbing?

Family-Owned & Operated

  Call Us 24/7

  37+ Years in Business

  Licensed, Insured & Bonded
Woodland Hills Plumbers Near You
Our Woodland Hills plumbers are dedicated to providing the best service at affordable rates. Whether your sump pump is malfunctioning, you need help with dishwasher installation, or it's time for toilet repair, sink repair, faucet repair, shower repair, or garbage disposal repair, our plumbers can take on any problem, regardless of its scope.
Customers in Woodland Hills also trust us for leak repair, whether a leak originates from a damaged fixture, a faulty pipe, or under your home's slab. We can address sewer backflow issues and have the latest tools and techniques under our belt to make repairs with minimum disruption to your home or business. And if you have one nuisance clogged drain, we have the equipment to quickly get it running again, thanks to our dedicated Woodland Hills drain cleaning professionals.
In addition, we're relied upon throughout Woodland Hills for emergency services. You can count on Lynch Plumbing 24/7 if you have a plumbing emergency such as a burst pipe or overflowing toilet. Our local Woodland Hills plumbers can get the situation under control and even help with water damage cleanup to minimize the impact.
Commercial plumbing services are provided in Woodland Hills as well. We can help with equipment installation, grease trap and drain cleaning, and installation/repair of fixtures of all sizes.
Call for Expert Plumbing Services in Woodland Hills Today!
Our Woodland Hills plumbers ensure everything is installed properly and provide advice on whether repair or replacement is the best long-term option. Schedule service online or call 818-773-9514 to request plumbing services in Woodland Hills, CA.
"We have been using Lynch plumbing for some time now, and they have always sent experienced and knowledgeable plumbers."
"Amanda and Tommy have great service, great quality, and attention to detail with a real sense of professional pride in their business."
"From Amanda in the office to Tommy and his crew, this is the lifetime plumber you are looking to work with."
"The plumber arrived on time, was extremely professional, and did an outstanding job. They are my new regular plumbing company now!"
"Simply put, Lynch Plumbing provides superior service to their customers. They are quick, efficient, honest, and trustworthy."
"The technicians were knowledgeable, compassionate and so helpful. If I could rate them 10 stars, I would!"