Serving Los Angeles & San Fernando Valley
Santa Monica Plumbing Company
Santa Monica Plumbing Company
Lynch Plumbing provides high-quality 24/7 emergency plumbing, repair, and installation services for residential, commercial, and industrial clients in Santa Monica, CA.
Local Plumbers in Santa Monica, CA
DRAIN SERVICES From simple drain cleaning to more advanced techniques such as motorized drain snaking and high-pressure hydro jetting, we fix clogged drains fast. Our licensed plumbers near you specialize in kitchen and bathroom, floor, and commercial drain cleaning.
24/7 EMERGENCY PLUMBING Whether you have a clogged toilet or burst pipe or smell gas, we can address your plumbing emergency fast. Our Santa Monica plumbers can quickly fix your drains, gas line, sewer line, piping, and fixtures to restore flow and mitigate the danger.
LEAK DETECTION & REPAIR Signs of leaking pipes include warped/sagging floors, moldy odors, a spike in your water bill, or a discolored ceiling. Paint or wallpaper may be bumpy, or you may hear running water when no taps are on. Call us for prompt leak repair as these signs can mean an imminent burst pipe and flood.
PIPE INSTALLATION & REPIPING Installing water or gas pipes requires a great deal of knowledge and experience. You may need repiping if you have frozen pipes, rusty-looking water, stained sinks, or tubs, or notice a decrease in water pressure. Fortunately, Lynch Plumbing employs fully trained, licensed, and professional plumbers in Santa Monica, CA.
WATER HEATER SERVICE Our Santa Monica water heater repair and installation professionals can address any issues with your hot water heater and ensure it's installed properly. We can also install a space-saving, high-efficiency tankless water heater that matches the needs of your home.
SEWER REPAIR Our sewer line and excavation team can address damage caused by corrosion, tree roots, settling soil, construction, or a buildup of foreign debris or objects. Whether your sewer line can be repaired or must be replaced, we specialize in traditional and less invasive methods like pipe lining and pipe bursting.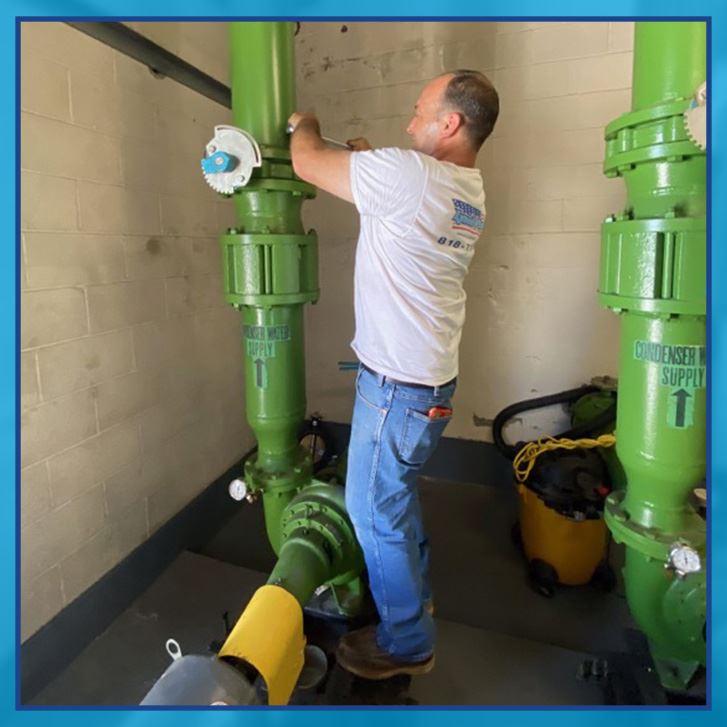 Why Choose
Lynch Plumbing?

Family-Owned & Operated

  Call Us 24/7

  37+ Years in Business

  Licensed, Insured & Bonded
Professional Plumbing Services in Santa Monica, CA
We're known throughout Los Angeles and the San Fernando Valley for emergency services. You can never know when a plumbing emergency at home will arise, but our emergency plumbers are ready to respond at a moment's notice. We are highly skilled and trained, clean, and respectful while capable of fast leak detection and repair. We'll even assist in water damage cleanup to minimize the risk of more serious issues, such as mold.
Whether you need toilet repair if your flusher doesn't work or your toilet is running, or your drains are slow or backing up, you can count on Lynch Plumbing to resolve your problems fast. We employ the latest techniques and state-of-the-art technologies to address your needs. Any job involving shower repair, sink repair, faucet repair, or garbage disposal repair can be completed on the spot with high-quality results guaranteed. And for flood-prone basements, we can install, repair, and help maintain a sump pump to ensure your home is protected against ground or rainwater.
If you need assistance with installing appliances, we can help there too. Dishwasher installation can be complex, but our technicians know every step to sizing, fitting, and connecting your dishwasher so it runs properly for years to come. But for more serious matters such as wastewater backflow, we can address water pressure issues and sewer line damage that may be causing waste to back up into your home.
"We have been using Lynch plumbing for some time now, and they have always sent experienced and knowledgeable plumbers."
"Amanda and Tommy have great service, great quality, and attention to detail with a real sense of professional pride in their business."
"From Amanda in the office to Tommy and his crew, this is the lifetime plumber you are looking to work with."
"The plumber arrived on time, was extremely professional, and did an outstanding job. They are my new regular plumbing company now!"
"Simply put, Lynch Plumbing provides superior service to their customers. They are quick, efficient, honest, and trustworthy."
"The technicians were knowledgeable, compassionate and so helpful. If I could rate them 10 stars, I would!"